Artisanal Farmstead Cheese
Handmade cheese has been the primary goal at Cricket Creek Farm since the transition to grass-based farming in 2001. We have a state-of-the art cheese making facility and have been progressing with development. We regularly produce five cheeses, and are constanlty working on new varieties.
Maggie's Round
First Place – 2011 American Cheese Society Competition
Maggie's Round is made with raw cow's milk and aged over 60 days. It is a semi-firm, whole milk cheese inspired by the toma cheeses of the Italian Alps. The flavor is sharp and bright with citrus notes. The rustic rind adds earthy tones. Try pairing it with a bright white wine or a light red wine.
Maggie's Reserve
First Place – 2012 American Cheese Society Competition
Maggie's Reserve is made with raw cow's milk and aged 12-18 months. It is inspired by Italian farmstead cheeses and has a rustic natural rind. The texture is firm and has a pleasant, nutty, lingering flavor. It is excellent paired with a medium or full-bodied red wine, particularly Merlot or Barbera.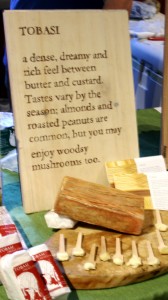 Tobasi
Tobasi is a semi-soft, square shaped, raw cow's milk cheese that is aged 3-4 months. The edible, washed rind has a rich orange patina. It is buttery and smooth in texture, with earthy, grassy notes. Tobasi is lovely with a versatile white wine such as Pinot Gris or Chardonnay.
Berkshire Bloom
Berkshire Bloom is a semi-soft, fresh aged cheese made with pasteurized milk in a style similar to Camembert. It has a delicious white rind and a very soft, earthy, pungent layer surrounding a mild firm center. Pair this cheese with light red wines or anything with bubbles.
Cricket Creek Fresh
Cricket Creek Fresh is soft and spreadable with a sweet lactic flavor. This cheese is similar to a chevre, but made from pasteurized cow's milk. It is currently made in five flavors: Garlic & Herb, Herbes de Provence, Lavender & Honey, Sundried Tomato & Kalamata Olive, and Perfectly Plain.
Our cheese is available at the Farm Store, seven days a week (open 7AM to 8PM). To see a list of other places to buy our cheese, and restaurants that serve it, click here.
If you are a chef or cheese buyer, please email us at info@cricketcreekfarm.com to receive a copy of our wholesale price list.