Open 7 days a week
7am to 7pm
RAW MILK
GRASS-FED BEEF
ROSE VEAL
WHEY-FED PORK
CURATED SELECTION OF LOCALLY SOURCED GARDEN PARTY PROVISIONS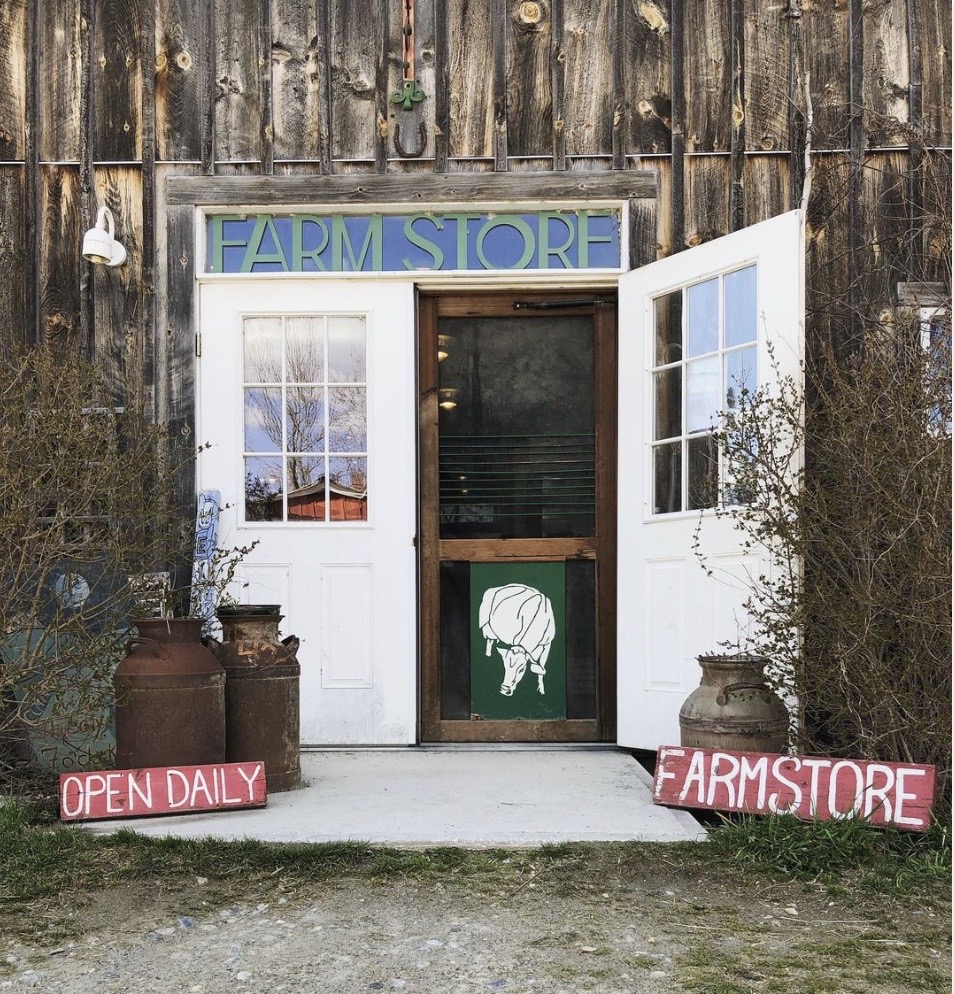 Our farm store, located at 1255 Oblong Rd in Williamstown, MA, is self-serve and on the honor system. This means that there are no Cricket Creek employees in the store selling our wares. We have trust in our community that our system will be respected and that our customers will honor themselves, our farm, and our hard work and leave the correct payment for their goods. We accept all major credit cards through our Square system. Personal check and cash are also accepted. Detailed instructions are located at the checkout station.
If you need assistance in the farm store, there are a few places you can check for help. Above the iPad register, there is a large poster with instructions on how to ring up your items — this will likely have the answer to your question! If not, walk down the hall and there are often cheese makers in the creamery.  You can look through the large windows and if you see anyone in there, indicate to them that you need assistance.  Further down the hall there is a door on your left, if you go through that door and down the steps you will find yourself in the farm office.  There may be someone in there who can help you. If you don't see anyone around the farm building, there may be a farmer outside who can assist you. It is possible that you will stop by and not see anyone around because we are all out working.  You should still feel free to walk around the farm and shop in the farm store.
We also carry a variety of other local food products, books, newspapers, and gifts including products from the following businesses & farms:
Appalachian Naturals (Goshen)
Backyard Brine Pickles (Cutchogue, NY)
Blake Hill Preserves (Windsor, VT)
Carr's Cider House (Hadley)
Hosta Hill Kraut and Kimchi (Pittsfield)
Ioka Valley Farm (Hancock)
Kitchen Garden Farm (Sunderland)
Maine Sea Salt (Marshfield, ME)
No. Six Depot Coffee (West Stockbridge)
Sidehill Farm (Hawley)
Square Roots Farm Eggs (Lanesborough)
Up Mountain Switchel (Winhall, VT)
Valicenti Pasta Farm Sauces (Hollis, NH)
RAW MILK
CURRENT PRICING:
Plastic Gallon — $10
Plastic Half-Gallon — $5
Glass Half-Gallon — $9 ($5 + $4 glass deposit)
Please note that per Massachusetts state restrictions on the sale of raw milk, we are not permitted to sell raw milk at farmers markets or other off-site locations, nor are we permitted to deliver raw milk or make raw cream. We are only permitted to sell whole raw milk directly to customers at our on-site farm store.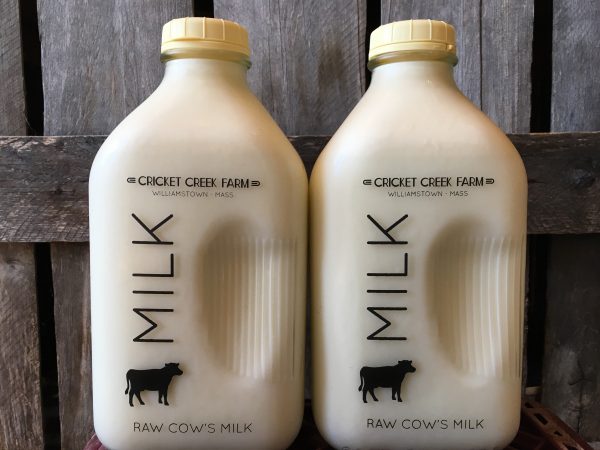 GLASS BOTTLES
In early 2012 we began carrying our milk in glass bottles in addition to plastic. A $4 bottle deposit is included in the purchase price of a glass half gallon of milk. If you would like to return the bottle after drinking your milk, you can redeem a $4 discount on your next purchase. Here's how:
Leave your clean, empty glass bottle under the table to the left of the egg refrigerator.
Upon checkout, navigate to the "discounts" screen and select the appropriate discount, depending on the number of bottles you are returning.
The discount will be applied to your total purchase price.
Please do not take cash from the cash box.
If you do return a bottle, please be sure to return the bottle empty and clean.  We re-use these bottles, and while we wash them all between uses, we wash them by hand and it is much easier on us if they come back clean.  If you have any questions about how the deposit system works, please ask a Cricket Creek employee.  We would be more than happy to show you the ropes!
Visiting the Farm
Our farm is open to the public, so please stop by to visit the pigs, calves, and cows! Please note that we are a working dairy farm with a small staff and do not offer organized tours or the farm or creamery. Please note that electric fences are live at all times
In visiting our farm, the most important rule is that the public may not open or go through any gates or closed doors. We usually have calves in the barn, which you can reach by walking up the driveway along the left side of the building. Enter through the large door just in front of the old silo.
We often have animals in the back open barn, which you can access by walking past the old silo on the left side of the building.
Pigs are usually near the tin barn, past the large red barn with the circular window to the right of the farm store.
See the map below to help you find your way: