Cricket Creek Farm is owned by Jude Sabot.  Topher Sabot, Jude's son, oversees the daily operations of the farm.
Each year we take on a new set of apprentices who come here for a year to learn, work, and play with us.  All of us together make up a dynamic farm team.  Visit our employment pages to learn more about opportunities here, including the apprenticeships.
Jude Sabot – Owner
Jude moved to Williamstown with her husband and 4 children after living in England for 4 years, in Tanzania for 2 years and Washington DC for 10 years. While it was never in her life plan to be a farm owner/ manager and cheese maker, she has found the challenge and the adventure very rewarding– and fun! She enjoys working with our great group of employees and interns and interacting with customers and community.  Her passions are listening to music, being outside as much as possible, learning a new language, traveling, and spending time with family and friends.

Topher Sabot – Owner/Head Farmer
Topher Sabot grew up in Williamstown on Oblong Rd, attending Mt. Greylock High School, and then Williams College. After several years out west, Topher returned to help manage Cricket Creek Farm and took over daily operations in 2009.  Topher oversees all aspects of the business, but focuses his attention mostly on the dairy herd – cow health, breeding, forage etc. Topher is also the editor of FasterSkier.com, an online news source for Nordic Skiing.  Topher loves the rolling hills, forests and fields of Williamstown, and when not working on the farm, can be found running or biking, hanging with his wife Jen and children, Charlie, Jasper, and Annabelle.

Emily Cordner – Farm Manager
Emily started at Cricket Creek as a farm apprentice where she worked alongside Topher milking the cows, feeding pigs, driving tractors, making hay, feeding cows, fixing big mechanical things, chasing cows, and chasing pigs. She's since stayed on as the farm's first Assistant Farm Manager. Before coming to Cricket Creek, Emily spent a year working on an 80,000 acre beef ranch in Colorado and at an animal rescue center, where she dealt with everything from pigs to crocodiles.  She brings an unmatched work-ethic, a deep-seated love of animals, a great sense of humor (a necessity on a dairy farm) and an impressive array of skills.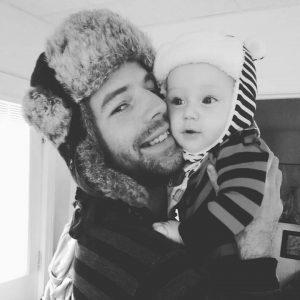 Damion Davis – Head Cheesemaker
Damion Davis comes to Cricket Creek with a lifelong background in farming. After a yearlong apprenticeship on a small goat homestead in western Maine and making cheese from extra milk in his downtime, the craft became an instant passion for him. Damion has spent the last decade making cheese full-time. From hand stretching mozzarella in Boston to running the oldest creamery in Maine, he loves to teach the art of cheese, and witness firsthand how a good wheel of cheese can bring community together. If you catch him outside of the creamery he is a passionate gardener and artist. He loves books, nature, and making memories with his wife Emilie and son Ezra.

Bean – Assistant Farm Manager
Bean came to Cricket Creek as a young pup and quickly learned the ropes. She plays a critical role in making sure everyone — from the dairy herd to the office staff — is doing what they are supposed to. When she's not overseeing operations, she likes running, eating the pigs' food, and lounging in the sun. She is also very serious about her naps.
Anna Halpin-Healy – "Swiss Army Knife" Manager
Sarah Manley – "Everything But The Kitchen Sink" Manager
Jamie Ott – Bookkeeper
Zach Armet – Fulfillment Wizard
Leo Sedlock – Pig Wrangler
Creamery Apprentices – Charlie Kerzner
Farm Apprentices – Joe Lytle