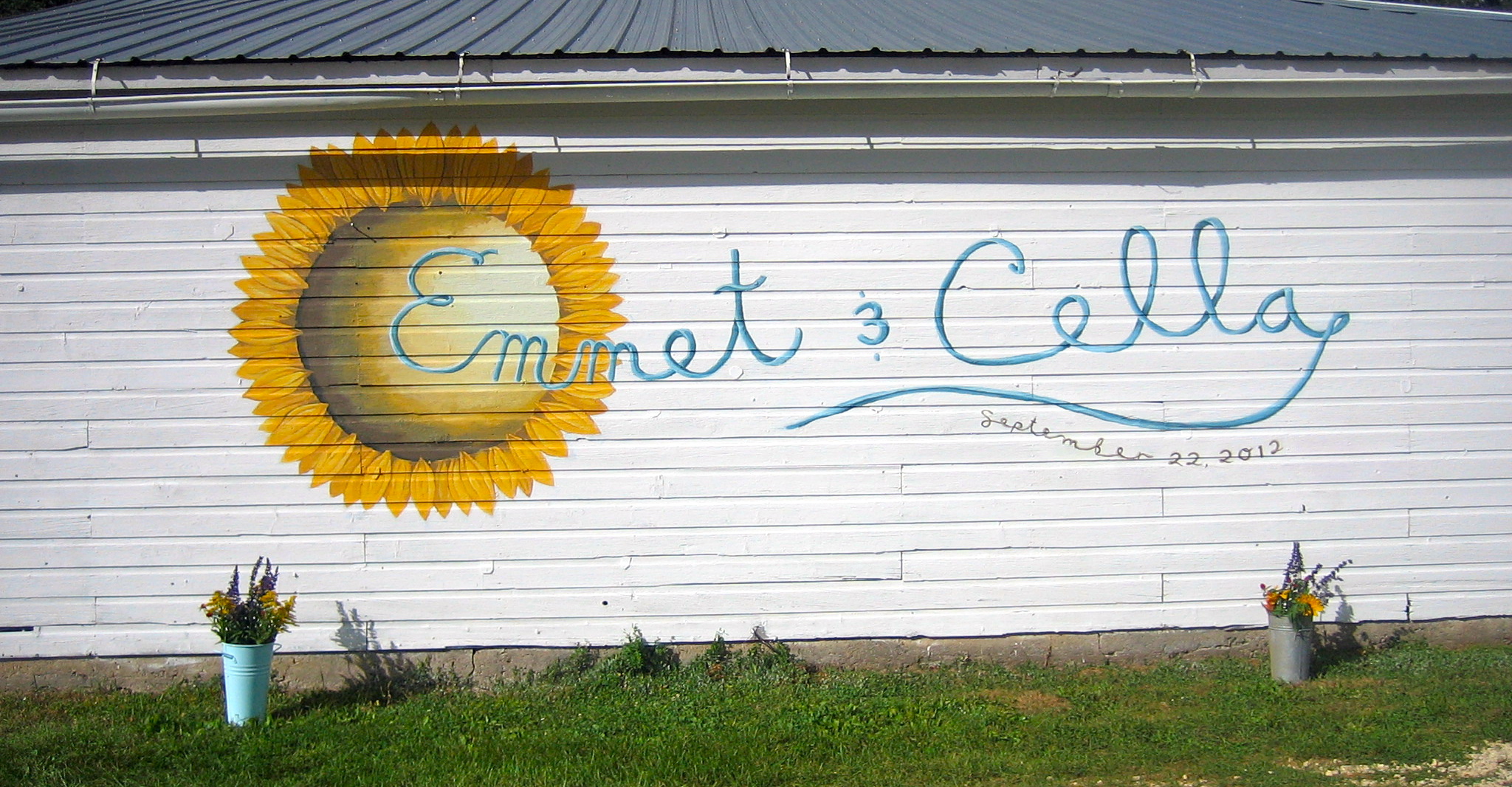 Cella and Emmet were interns at Cricket Creek Farm from October 2011 through March 2012.  On September 22nd they were married in Stockholm, Wisconsin on the farm where Emmet was raised.  Matthew and I had the special opportunity to drive out there for the wedding.  We are grateful to Cella and Emmet for having us join them on their wedding day, and grateful to all the Cricket Creekers who worked so hard over the past week to allow us to get away!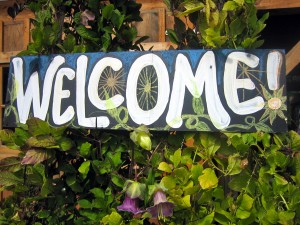 The farm where Emmet was raised (and where his parents still produce incredible food!) has a proper name of as A to Z Produce and Bakery but famously known as The Pizza Farm.  We had known a bit about The Pizza farm before heading out there, but we didn't know the true extent of its fame and glory.  We knew that they grow produce, preserve massive quantities of tomatoes, raise some animals, milk
a cow, have an award winning sourdough bakery on site, and make pizza pies in the summer time.  What we learned was that this farm (despite zero advertising, zero road signage, and a very low-key presence) draws people from far and wide for the pizza nights, frequently from as far as
Minneapolis.  Everywhere we traveled in Wisconsin and Minnesota on the trip, people knew about The Pizza Farm.  We started just telling people, "we were at a wedding…at The Pizza Farm", and immediately folks knew what we were talking about and would launch into a story of when they went there for pizza.  Usually the story would include something about the best pizza they ever had, and how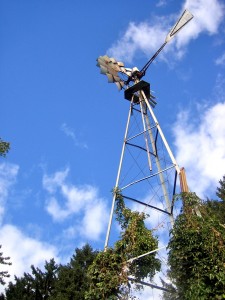 they narrowly escaped the long lines by thankfully getting there early.  Apparently long lines form and people wait and wait for their pizza from The Pizza Farm.One of the interns working at the farm said that on busy nights they might make 300 pizzas in one night – that probably feeds between roughly around 1,000 people.  For the price of an all local pizza, it sounds to me like an great business model and an excellent cash infusion for the farm on a single night.  It also sounds like an immense amount of work in a very hot kitchen.    And it's all spread by word of mouth.  Below is their milking cow on the right, and one of their oxen on the left.  What a massive and beautiful bovine.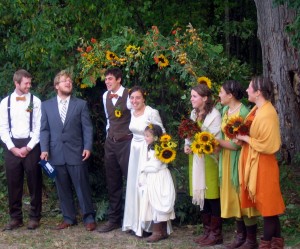 The actual wedding ceremony was absolutely lovely.  It started with all the guests gathering by the barns and tent at the main farmstead.  Then came the procession of everyone walking down to the wedding site which was a peaceful and romantic spot tucked away in the fields.  All the guests sat on hay bales covered with cloth, and a piano (that was pulled down there with the tractor) played as everyone was seated.  The ceremony was full of music, poetry, and heartfelt blessings.  Nick Haslett played and sang Hey Baby Hey by
Greg Brown, which brought tears to everyone's eyes).
I want to plant a little garden with you now, take care of a piece of the earth somehow, and tend it when we're old and gray and, try to straighten up and say, well, I'm so glad to see you today hey baby hey baby hey baby hey
Cella and Emmet each read their own unique, touching, and downright funny vows.  The vows referenced so many aspects of their life – their dedication to agriculture, love for dancing, art, cows, their memories and growth together over the past six years, and their dreams about growing old together.  Look how stunning Cella is in her grandmother's dress – very elegant and sophisticated.  There were sunflowers everywhere (Cella's favorite), which gave the entire wedding a real autumnal feeling.   Then everyone was given a glass of champagne and the entire wedding shared a toast together.  It was a joyous moment!
Then came the food.  Oh my gosh, the food.  All of it was grown and prepared by Cella, Emmet, and their families.  Not a small undertaking for a wedding of 150 people.  They pulled it off seamlessly.  Cella and Emmet raised chickens and this summer, which were grilled on the farm the day of the wedding along with a very tasty hog.   There were several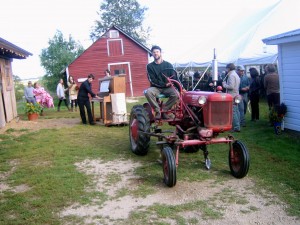 gorgeous salads bursting full of colors and flavor.  Cella's sister in law baked an exquisite chocolate cake and Emmet's folks fashioned about 15 apple pies (Emmet loves pie).  Then there were several buckets of hand-cranked ice cream (Emmet made it, and friends and family turn turns cranking!).  Not just the food, but the entire wedding exuded this warm and familial homemade feeling.  Yes, it was formal, but at the same time it was
very natural and relaxed.  It definitely complimented the home-made and Do It Yourself approach that Cella and Emmet have to life and work in general.
The meal was followed by a blazing bonfire.  Guests stood around it to keep warm and watch a big sunset fill the sky.  Then a rockin' band began to play.  It was comprised of various friends of theirs.  All sorts of instruments were included, and made some real fun music.  Guests joined hands for a hoppin' contra dance.  Cella and Emmet are seriously pro contra dancers.  Cella grew up contra dancing in Greenfield, MA –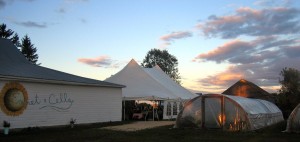 one of the biggest dances in the area.  I had the pleasure of dancing with them several times last winter.  As the dance was ending later that evening, Cella and Emmet brought out dozens of fire lanterns.  Everyone took one, and lit the small folded
paper bottom piece on fire.  Standing back from the crowd, it was a sight to behold.  Everyone holding a glowing ball of light, and slowly, one by one, letting them up into the sky.  We all watched in awe, never having seen anything quite like this before, as the lights floated up and down further into the distance.   Some of them dipped and swooped.  Some quickly sped past the others, while some slowly glided along.  It was a sight to see.
Congrats to Cella & Emmet – we're sending you lots of love and cheese vibes from Cricket Creek!