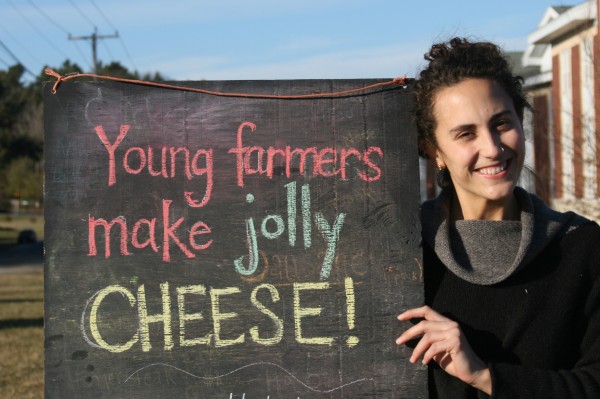 Last weekend I had the pleasure of attending two busy farmers markets organized by Berkshire Grown.  One was in Great Barrington and the other in Williamstown, they are part of a four-market series (2 before Thanksgiving and 2 before Christmas).  These markets are busy with shoppers who are committed to buying local food and crafts and want to throw their support behind farmers and artisans in this region.  
We do well financially at these markets, and they play an important role in helping us manage cash flow and inventory in the early winter.  Also, perhaps more importantly, the winter markets offer us a venue to communicate to our community that our products are available year-round.  It is exciting to me that farmers markets are growing in popularity.  A (largely) missing component is how people feed themselves outside of the warm summer months, and outside of garden produce.  I am committed (through my work as a food producer and link between a farm and the community) to continually help folks understand the importance of truly basing their diet off of real food from local farms, and help people figure out how to do that in a way that is financially viable, nourishing, and fun.  I personally come to my love for agriculture from a perspective of wanting to be a healer and an educator.  I love exploring questions like these with my community and customers:
What is the real difference between the nutrient value of produce that comes direct from a farm that puts a high value on soil biology and nutrient density, compared with produce (even organic) from a super market?
What is the loss in nutrient value of produce that is old and has been sitting on the shelf?
Why is it important to have the majority of your plate (yes, at every meal) filled with vegetables, and how can you accomplish that in the winter?
What is the importance of consuming real dairy products and real meat, from local farms?  What are the ramifications for not only our bodies, but our economy and community?
How can you use fresh farm food to reduce cravings and cut back on processed food and sugar?
How can we communicate the affordability (in immediate savings and long-term health benefits) and convenience of eating this way?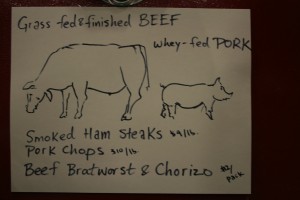 Having a vibrant farmers market in the winter months helps to address some of these questions.  Whether or not we specifically dialogue with customers on each of these issues, having a large presence of food producers at a farmers market in the winter that is even more bustling than the summer market sends a powerful message.  I am grateful to Berkshire Grown for bringing this discussion to our town.  I have a dream of building a regular local farmers market like this one.  I know there is the potential; I see so many markets that are on the cusp of something like this.
These holiday farmers markets organized by Berkshire Grown are successful many reasons.  Here is my short list of essentials of the Berkshire Grown markets, and successful markets in general.
They create a space where community members can gather and socialize.  You wouldn't believe how many customers I watched bump into an old friend or colleague.  They were making and renewing connections left and right.  Folks come to a market like this one because they know that they will see people and (re)connect.
The market is extremely professional.  They don't mess around.  This professionalism shows and as a result the vendors and customers take the market seriously with regards to quality of the products offered, prices of the products, and customers' response.
They are very well advertised.  Over the past 6 weeks every Williamstown resident saw an advertisement for this market any time they drove past Spring Street on Route 2 or drove around the rotary.  Having a constant presence of signage over a period of weeks helped garner the interest and excitement about the markets.
 They have a wide array of offerings.  There is a beautiful array of products at these markets, and that is inspring to customers.  It helps give folks ideas about how to prepare different foods, how to integrate new/different products in their diet.  It also helps educate folks about the immense variety that is produced in our area and shows that there are real people behind each one of these ventures.
I have lots of hope for the future of food in this region.  I think that fostering rich discussions on practical ways to move forward is key.  I also think that bringing in many stakeholders and many different skills/experiences/perspectives is important.  Winter farmers markets need to be a basic tenant of the growing small farm movement and and are key to educating ourselves and our community about practical ways to address health issues and eating habits.
Thanks again to Berkshire Grown and to all the volunteers who made these markets possible.  You have my deep appreciation and my encouragement to continue on this path with more successful markets at all times of year.  For photos taken during the markets this weekend,
check out our facebook page 
 and the recent album, titled "Holiday Market Shots"