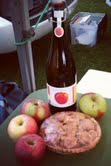 I've always enjoyed visiting farmer's markets in whatever cities I have lived in… I've visited some wonderful markets in Cincinnati, Chicago, Boston and most recently Cambridge and Somerville, MA. I would wander through these markets, and see if anything exciting would jump out at me. Every time it was a different experience. Sometimes I would get excited about some leafy greens, or a delicious cheese or bread I tried, or some fresh stuffed grape leaves. I have some memories from various markets that will stay with me forever… for instance, the first time I was introduced to Kohlrabi at the Winter market at the Armory in Somerville, or the incredible array of tomatoes that I soon learned all of the names of (yellow pear, brandywine, green zebra) at the end of the summer at the Friday afternoon market next to the Charles Hotel in Cambridge.
As part of the apprentice program at Cricket Creek, we are assigned to work different farmer's markets throughout the summer and fall. I am responsible for selling cheese and other items at the Lenox Market on Friday afternoons at Shakespeare and Company and at the Berkshire Mall in Lanesborough on Saturday mornings.  I had never worked at a farmer's market until this summer when I came to Cricket Creek. Sometimes markets are really busy and one barely has time to catch their breath between cutting samples, explaining our various types of cheese and helping people with their purchases (adding the total, taking cash and making change).  Sometimes though, markets are really slow and one has time to take in the scenery and reflect on things.
Today there was a rainstorm in Lanesborough and as soon as the first drop hit, all of the customers scattered to their cars and left to go on with their days. This left me some time to reflect on the changing seasons. Everyone knows that farmer's markets sell the most seasonal products, but I had never really thought about how incredibly apparent it is when you are working at a market and witnessing firsthand the seasonal changes solely through fruits and vegetables. In the beginning of the season, everyone is selling leafy salad greens.  Then all of the sudden everyone has summer squash and zucchini. One week there is no corn and then the next week, there are four vendors selling many different types. The fruit is the same… for a few weeks there are strawberries everywhere and then all of the sudden there are none. Raspberries came and before I knew it, they were gone. Watermelons and Cantaloupe were being sampled and tasted so sweet two weeks ago and now there are only a few left.
The change of the season really hit me yesterday though when I was looking at all of the goodies I had purchased at the Lenox market and I realized that I had collected a bounty of apple goodness including 3 different types of apples from Samascott Orchard, a fresh baked apple pie from Klara's Gourmet Cookies and a bottle of semi-dry hard apple cider from Carr's Ciderhouse.  Fall is my favorite season, so this all made me really happy and excited. I am looking forward to the changing flavors and landscapes of my markets as items start appearing such as fall squashes, pumpkins and gourds and while I will miss the bright yellows, reds and greens of summer, I'm ready for the deep and beautiful golds, oranges and burgundy of fall.